Beautifully Bespoke Jewellery Design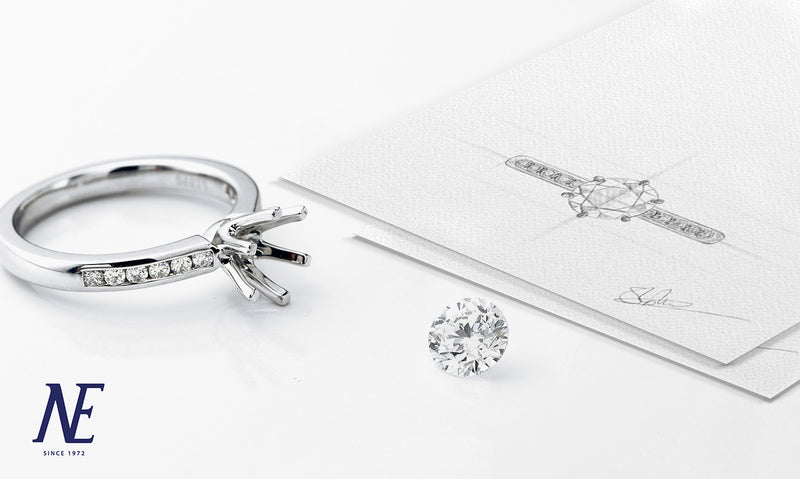 Unique, Personal and Bespoke to You
If you are looking for something completely different or looking to tweak a classic design, our team can help you create an engagement ring, wedding ring or piece of jewellery to suit your style. For nearly 50 years, Newey's has made everything from a CAD designed classic solitaire engagement ring, to a wax-carved bespoke shaped wedding band, and even to a gold Sheffield knot for a blacksmith's wife!
To help you create your perfect piece of jewellery, we mix the practices of a traditional workshop manned by goldsmiths, with 30+ years' experience, with innovative jewellery design and CAD designers.
The Design Process
1. Collecting inspiration and ideas
To start your bespoke piece it helps to get an idea of styles and designs that you love that can inspire an engagement or wedding band, or any other jewellery you desire! Please feel free to show us pictures or drawings and we will work with you to create your perfect custom piece.
2. CAD design, wax carving, and hand manufacturing
In order to get the best result for your piece we may use one of many jewellery techniques. CAD (computer aided design) allows you to view your bespoke piece as a computer rendered image before production. This means alterations and amendments to the CAD design are possible, so you can approve it before manufacture.
We want the experience to be as easy as possible, so our assistants will be happy to talk you through the process. If you have a shaped engagement ring and cannot find a shaped band to fit, our experts will help you design a bespoke wedding band to your specification. A tried and trusted way to get a perfect fit is to have a wax carved wedding band, which we then cast into silver so you can view the shape.
3. Choosing a centre stone
For a bespoke engagement ring you may want a particular stone. Our sales assistants' extensive knowledge of diamonds and coloured stones means we will be able to find your perfect stone – whether that be a classic diamond or a beautiful coloured gemstone. If you need guidance with choosing the ideal diamond, we can talk you through all the elements of the 4 C's, which means you can be assured you are picking the best stone for you.
All diamonds and coloured stones are checked by our qualified gemologist and come with assurances that they come from a non-blood diamond source, so you can be guaranteed that your stone is non-conflict.
4. Our workshop creates your vision
Our workshop is staffed with fabulous jewellers with over 30+ years experience and a master's degree in jewellery. They will make your vision come to life with flair and passion ensuring your ring is flawless.
5. Voila, your fabulous piece of jewellery is ready
After visiting our pre-delivery inspection department, your item will be ready for collection from our showroom or we can arrange insured delivery to your home address.